Nordic Steel Gutters offer superior quality.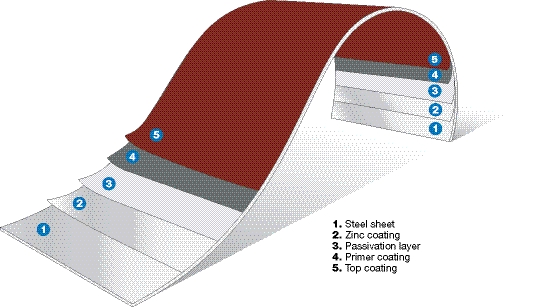 The Nordic gutter system is designed to last for decades of use and is designed with ingenuity to offer high quality. The system combines durability and aesthetics. Furthermore, making products that are easy to install is important. In addition, so is to give decades of life and service. Every component is important. The lifespan is long so we create more value for money. Meanwhile, the sustainable impact of the Nordic gutter system becomes as low as possible.
Therefore, protective layers cover all products. Above all to increase the Nordic Steel Gutter system's lifespan. The material buildup is like this;
Steel core
Zinc coating
Passivation layer
Primer coating
Top coating
The different coatings are applied to both sides of the steel. In other words, all products are coated inside and out. For instance to protect the components from the wear and tear of the environment.
All raw materials go through riogourus testing prior to any manufacturing. To test corrosion durability we use sites along the North Sea of Sweden. As well as the Atlantic coast of France. In Florida and Australia, the tests are for harsh ultraviolet rays. We test for resistance against environmental pollutants mainly in China.