Does carbon footprint make us change our light bulbs to LED? We buy them although they are more expensive. In other words, we consciously make that choice. Why, because they will save energy and money. In other words quality and sustainability do not cost – it really pays.  With this in mind, The ECO leader in Gutter System's Nordic Steel Gutters strives to minimize the environmental impact.  We look at all processes caused by the company's operations and products. We develop the Nordic Gutter products with set targets for its carbon footprint.
To sum up, a number of greenhouse gases cause climate change. Above all most scientists identify carbon dioxide as a really bad source. The EPA or the United States Environmental Protection Agency monitor and track these emissions. The EPA found that carbon dioxide emissions make up 81 percent of the greenhouse gas released in 2018. That is to say, burning fossil fuels like coal, natural gas, oil, solid waste, or trees is really bad for the environment.
In short, our customers that buy The ECO leader in Gutter System's get a bonus. That is to say, they buy the most sustainable water management system with the lowest carbon footprint there is. The Nordic Steel Gutter system is manufactured with up to 35% recycled steel. In addition, the gutter system can be 100% recycled when you scrap it.
This show the amount of greenhouse gasses produced per lifecycle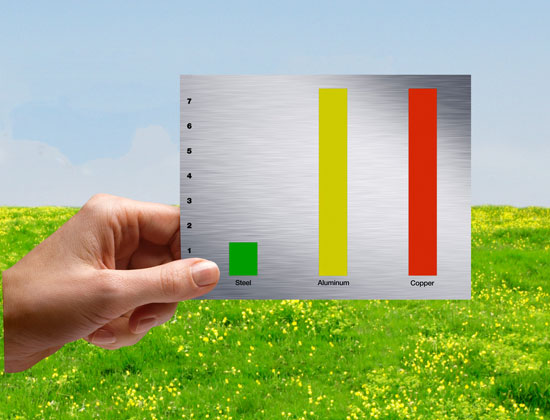 *Greenhouse gasses produced per C02 equivalent. Sources: world steel org, world-aluminum org, and eceee, the European Council for an Energy-Efficient Economy