Increasingly customers are asking for the carbon footprint of products prior to purchase. With this in mind, Nordic Steel Gutters strives to minimize the environmental impact caused by the company's operations and products. Our products are developed based upon a lifecycle perspective with set targets for continual improvements.
While a host of greenhouse gases cause climate change, scientists identify carbon dioxide as the largest source. The U.S. Energy Information Administration found that carbon dioxide emissions from burning fossil fuels accounted for 82 percent of the greenhouse gas released in 2006.
Our customers can rest assured that they have the lowest carbon footprint of any roof drainage system. Lindab rainline is manufactured with up to 30% recycled material. In addition, the Rainline system can be 100% recycled at the end of its life-cycle.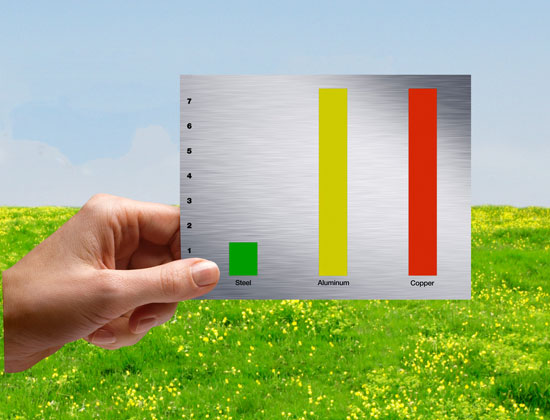 *Greenhouse gasses produced per C02 equivalent. Sources: world steel org, world-aluminum org and eceee org